May 13, 2010
Tweet
BY:
keith andrew
|
24 Comments
|
Print Article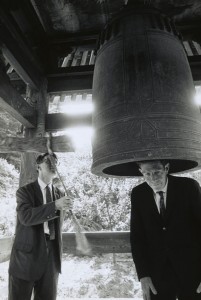 Recently I was reading some material on the controversial yet highly influential experimental composer John Cage –most widely known for his 'piece' 4'33" which if you are not familiar with, is 4'33" of silence. A bold statement indeed.
Now, don't get me wrong- I respect John Cage. In fact I respect most anyone who is willing to explore and push the boundaries of any convention- musical, artistic, philosophical or otherwise. I may think they are wrong; I may think they are foolish or perhaps even dangerous, but I still can find something to respect in their willingness to reach for or beyond something where most are not willing to reach. From these pioneers of exploration we can usually find something of value in their endeavors even if the mission turns up nothing or ends in complete failure and disaster. There is usually some insight to be gained from another's missteps -however well intentioned they may have been.
Woody Allen said that if you are not making mistakes you are not making progress. So let us indeed be willing to make a mistake as we refuse to play it safe while reaching for something we have not yet seen or achieved.
That being said, and after all due respect being given, on the subject of music, sound and purpose, I could not disagree with John Cage more and I think he is very mistaken.
In an essay Cage wrote called 'Experimental Music', Cage responds to the question- "What is the purpose of writing music?" with the answer- "One is not dealing with purposes but with sounds". Moreover, he presents the 'paradox' of a 'purposeful purposelessness or a purposeless play' as a potential answer in that it does not attempt to bring order out of chaos but simply affirms the life we live.
Anybody who wants to do anything in the world of art or music that affirms life and living is fine by me. Where our paths diverge however, is when that one begins to propagate the idea that the only requirement to fall under the definition of music is for there to be a sound or a collection of sounds.
Definitions are important; without the boundaries necessary for something to be defined, anything could be called anything and nonsense would result. So it is important to require some exclusivity in the definition of music. To be so inclusive as to merely require the presence of sound is to redefine music and consequently collapse it's meaning. There is obviously nothing wrong with sound for the sake of sound, but for the love of art –please don't put it in the same category as Beethoven's 9th or the Beatles' Abbey Road.
I believe at the heart of my disagreement with Cage lie some underlying differing philosophical viewpoints. It appears from Cage's writings and exploration of his 'chance' compositions, that he believes the highest form of music composition is to reflect that which exists in nature –namely chance. And to impose form, structure, or purpose is to lessen the beauty of that which exists in its most 'natural' form. He goes so far as to imply that by bringing order out of chaos one is 'suggesting improvements in creation'. In this statement he reveals his belief that untouched nature is the highest form of artistic existence and that we, as part of nature, are at our highest level of artistic expression when we reflect that which occurs in nature.
Here is the crux of where I disagree- I believe that although in one sense we are part of nature, we are also in greater sense, outside it, and it is the fact that we bring form, purpose and meaning to that which is devoid of such elements that express a beauty that transcends and indeed elevates that which occurs 'naturally'.
Cage seems to believe that by reflecting randomness the truest music is created and he includes mankind in his perception of that randomness. Where I think he goes terribly wrong –wrong in the sense that it is not a true reflection of humanity and the lives we live- is in the fact he ignores that which lies at the heart of every human -the quest for and resonance with meaning and purpose.
If some great mystical, authoritative figure of truth -be it God, the force, Daddy or Oprah - were to come and speak a final, conclusive, eternal message to each of us, and that message was –"Your life is without meaning and there is absolutely no purpose to your existence"- we would simply wither into a pile of void that no amount of psychotherapy or Prozac could resurrect. It is the fact that purpose and meaning is that which drives, moves, and inspires us that makes us unique and if you will- 'spiritual' beings. And it is the elements of form and purpose in music that resonates with who and what we are because it is THAT which lies at the core of our beings. It is not chance, randomness, and chaos that we instinctively find 'beautiful' but it is form that draws us. Even the 'naturally' occurring waterfall rings of a form that beckons us to sit, watch and admire its beauty. So it logically follows that form, composition and the elements of musicality that seem to 'make sense' to us invoke our appreciation and admiration. It is not merely 'sounds' that we are drawn to –it is the arrangement of those sounds we are willing to pay money for (or spend time downloading).
'Experts' (whomever they may be) say we are born with two natural fears –the fear of falling and the fear of loud noise, or to put it differently, sound that doesn't make sense. Perhaps it is because sound is so central to our existence that the role of sound in its ability to convey narrative meaning is so crucial.
Granted, over the top film scoring that shoves meaning down one's throat is a bit over done, but the fact remains sound possesses powerful abilities to convey meaning and we instinctively understand it when it does. Even when sound plays what appears to be a supportive role the impact can be just as affecting as the film itself. The soundtrack for 'Jaws' is a perfect example –the simple low notes left just as much an impression as the spurting blood visuals.
Going back to my contention about Cage, how effective would a soundtrack be if there were just random noises interspersed throughout a film? It would leave us confused as we again would try and make sense of the sounds and when realized we couldn't, it would distract and annoy us.
So my argument remains- we are beings that intuitively and instinctively function within the context of meaning and purpose and what we call 'music' both expresses and reflects that. Sounds that are random as they reflect nature are simply that- random sounds.
So when Cage once responded to a student asking if what he was espousing could be called music, his reply that, "Nothing is accomplished by writing, playing or listening to music" for me, falls on deaf ears.
We are creatures of purpose, meaning and form, and we are drawn to music that affirms that reality.